Clubs
Baking Club
All students are welcome to join the baking club. All you need is a love for learning or being in the kitchen, or both! The club meets each week to learn the art of baking. Students benefit from the structure of the club, the social interaction, and the emphasis on teamwork.
Advisors: Mrs. Ruiz, Mrs. Vargas, and Mrs. Moua-Yang
Day/Time: Wednesday from 2:30PM – 4:00PM
Location: Room H18
Bible Club
Advisor: Mr. Allen
Day/Time: Wednesday @ Lunch
Location: Room I26
Book Club
Book club is where readers come together to discuss books in an informal setting. Students can enjoy a kind of community-building experience by meeting with friends to choose, read, and discuss books together. The meetings can come to life with discussions, arts and crafts, and activities. Come read – then live the experience…sail a tall ship…journey to a tea garden…help choose the next book — the next adventure.
Advisors: Ms. Raber and Mrs. Ledbetter
Day/Time: Tuesday @ Lunch
Location: Room M29
Club Strong
Club Strong is a violence prevention club that promotes bystander intervention on campus and creating student leaders both on and off campus. Students learn about dating, types of abuse, healthy relationships, consent, how to cope with difficult emotions and gender socialization. Students have weekly meetings in room I-24 on Fridays at lunch and host fun tabling events on campus during awareness months. To join, just show up to club on Fridays! This club is brought to you by WEAVE because When Everyone Acts Violence Ends.
Advisor: Ms. Aleena (WEAVE Confidential Advocate)
Day/Time: Thursday after school
Location: Room BG6
Drawing Club
Drawing club is an after school club that meets weekly. It is open to all grade levels. This is a great place for students to explore their personal interests in drawing and get some hands on experience with different techniques and materials if they are not in art class or if they just want more drawing in their life.
Advisor: Mr. Lindamood
Day/Time: Wednesday from 2:30PM – 3:15 PM
Location: Room 3
Gardening and Board Game Club
Day/Time of Meetings: Monday from 2:30PM – 3:30PM
GSA Club
The GSA Club allows students to be who they are. It offers a supportive safe space for all LGBTQIA students and allies. Members meet once a week during lunch time. Club meetings include discussions, activities, and socializing.
Advisor: Mr. Austin
Day/Time: Monday @ Lunch
Location: Room 201
Hmong Club
Hmong club is open to anyone who would like to learn more about the Hmong history, culture, music, language, and more. It promotes higher education and inspires students to achieve their academic goals. Students in Hmong club will receive an opportunity to work together as a team, support one another, learn and accept individual differences, and attend educational conferences/events.
Advisor: Mrs. Thao
Day/Time: Tuesday from 2:30PM – 3:30PM
Location: Room 15
Karaoke Club
Do you like to sing, dance, or just have fun? Then this is the place for you. Karaoke Club is a fun way to meet new people and have a great time. It's a place for all music lovers to come together, interact, and appreciate each other's music. See you there!
Advisor: Mrs. Thao
Day/Time: Monday from 2:30PM – 3:30PM
Location: Room 15
Mathletes
Mathletes meets weekly to practice problem solving techniques and general math principles. The team puts the practice to use at monthly competitions against other Sacramento area middle/K8 school teams. Competitions include problems from different levels of math rigor. No prior experience is necessary! See Ms. Graser for more information.
Advisor: Ms. Graser
Skate Club
Skate club strives to provide a safe, positive, and fun environment for students of diverse backgrounds to pursue their passion or desire to skateboard, meet and form friendships with other young skaters, and learn. Whether you're a beginner or skilled skater come out and join the fun afterschool. Students don't need to have your own equipment to participate. If students have their own equipment that would be appreciated and beneficial to their growth and ability to progress as a skater.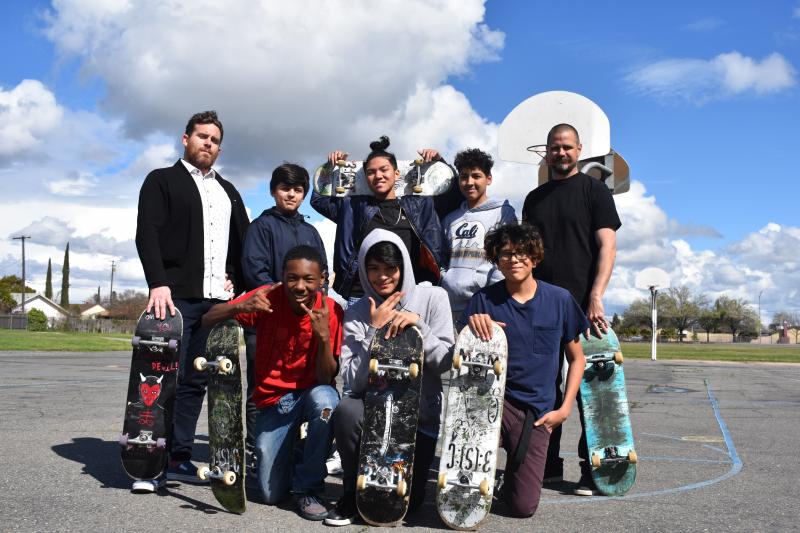 Advisors: Mr. McCaffrey and Mr. Budge
Day/Time: Monday, Tuesday, Wednesday, & Friday from 2:45PM – 3:45PM
Location: Boy's Side Blacktop