Summer Matters at SCUSD
June 30, 2022 - July 29, 2022 from 8:00AM - 2:30PM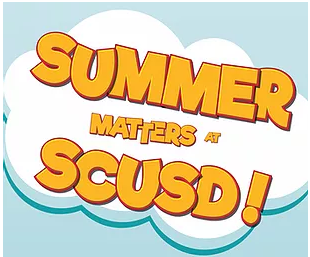 Summer Matters @ SCUSD-Middle is an exciting 21 day program that gives incoming 7th and 8th grade students the opportunity to become agents of change in their school communities by completing student-led projects that incorporate both research and action through a human design thinking model
An exciting 21 day program.
Targets incoming 7th and incoming 8th grade students.
Students engage in helping out their community through service learning opportunities that address community issues and concerns.
Students engage in project based learning.
Smaller students to staff ratio.
Focus on Relationships: Safe space to build mutual relationships with fellow students and adults. Enrichment activities will provide opportunities of collaboration, thus building trusting relationships among peers. Staff will focus on community agreements in order to address discipline issues.
Connecting with Families and Communities: Parent education workshops and regular check-ins with parents/guardians.
All students will be provided with a daily breakfast and lunch as a part of the program.
Students can enroll at any Summer Matters@SCUSD-Middle site.
Applicants are responsible for their own transportation to and from the program.
Click here to apply for the Middle School Program for Incoming 7th-8th Grade Students
Application Deadline: Friday, June 10th
Parents will be notified between June 16th – June 24th.
Parent orientation will be June 27th – 29th.
Participating Middle School Sites are:
Albert Einstein Middle School

9325 Mirandy Dr.

Sacramento, CA 95826

Sam Brannan Middle School

5301 Elmer Way

Sacramento, CA 95822

California Middle School

1600 Vallejo Way

Sacramento, CA 95818

Will C. Wood Middle School

6201 Lemon Hill Ave

Sacramento, CA 95824

Fern Bacon Middle School

4140 Cuny Ave

Sacramento, CA 95823